Le site de la Confédération Européenne de Volley-ball (CEV) consacre un article à la libéro des Yellow Tigers.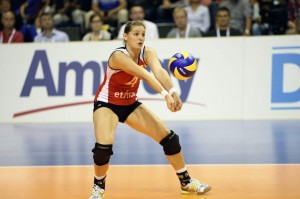 L'article en anglais,  fait le tour de la carrière de la limbourgeoise, parle de sa saison "off", de ses performance avec l'équipe nationale. Difficile aussi de ne pas parler de sa relation avec son célèbre frère, Thibaut Courtois.
Enfin elle évoquera son avenir sportif et ses relations avec sa famille.
Nous vous laissons découvrir cet excellent article dans son intégralité.
Getting to know: "Yellow Tiger" Valérie Courtois
Brussels, Belgium, April 15, 2014. Among the "Yellow Tigers" who won a historic bronze medal for Belgium at last year's European Championship and that later this year will compete at the FIVB Women's Volleyball World Championship Italy 2014, libero Valérie Courtois has a very special story to tell. The sister of Thibaut, Atletico Madrid's goalkeeper who will be playing in the semis of the UEFA Champions League, shares in this interview more about her background, passion for Volleyball, and plans for the future. 
Together with the Belgian national team, Courtois won bronze at the 2013 CEV Volleyball European Championship, an achievement that totally changed the status as well as the media exposure of the "Yellow Tigers" back in their home country. "The most emotional moment for me was the 1/4 final match with France. We had already won with them in the Pool but in that game we came back from two sets down to finally win at the tie-break. With this victory we made the final weekend in Berlin and the bronze medal we won after beating Serbia is of course something that we will never forget."
Apart from that bronze medal, Courtois also received the award for the Best Libero of the Championship, another first-time accomplishment for a Belgian player. "Our scoutman Kris Vansnick came up very enthusiastically to inform me that I got the prize; well, I just could not believe that it was me! This literally drove me crazy because I realised that this award would change my life. Normally a libero does not draw the attention of many clubs, but that has changed after I won the award at the European Championship, so next year I am most probably going to play abroad for some foreign team."
One season off…
Though her popularity literally boomed after the European Championship, Courtois decided to skip the 2013/2014 season to focus on her studies and only performed at the World Champs qualifier in Lodz where Belgium downed Poland to claim a ticket to Italy 2014. "This is a decision I had already made in January 2013. I could have changed my mind after the European Championship but I did stick to my original plans because I wanted to finish my studies in bio-engineering by September 2014. I do not think that this has impacted on the quality of my performance because in the meantime I have been practicing with several teams here in Belgium. Now I am more motivated than I have ever been; I am more relaxed, my batteries are fully loaded and I am ready for new experiences."
2014 Worlds looming… 
Courtois only played in early January in Lodz where Belgium confirmed their status of rising power to rout the home heroines of Poland and qualify for the 2014 Worlds. "Of course I still cherish the memories of our victory over Poland," she recounts. "We knew we could beat Spain and Switzerland but Poland was playing at home and on top of this, all of their big stars were back in action. It was an honour to play such team but we knew that we stood a chance. We are very proud of our 3:0 victory, the more because we qualified for the World Champs and Belgium is returning back for the first time since 1978. This way we can make another step forward and this is a very important leverage in the development of our team."
The Drawing of Lots assigned Belgium to a preliminary group that includes the likes of two Asian powerhouses (Japan, China), and of Azerbaijan, plus another two teams – still to be determined – from NORCECA. "It is very difficult to say what we can achieve as long as all teams are not known," Courtois says. "We have to wait until the end of the qualification process for NORCECA. However, we already know that this is not an easy group for we have to play Japan and China. Our goal is to make the second stage of the Championship and to see then which teams we will get to play there. At the end of June we will be playing a tournament in China where we will meet, inter alia, also the Dominican Republic in order to get used to a different style of playing."
Yellow Tigers and Red Dragons… 
With their bronze medal from the 2013 EuroVolley and silver from the 2013 European League, the "Yellow Tigers" have literally sky-rocketed to the international elite. "This may surprise someone who does not know much about Volleyball in Belgium. Even though both teams performed really strong last year and they both made the World Champs, the foundations for these results were laid already over the last few years. We have a strong group, we all know each other very well and we know what every single player needs in order to perform at her best. Many of our players have also moved abroad in order to improve on their skills, something they would not be able to achieve by staying here, especially the girls. We needed this step also in order to support our national teams."
Brother Thibaut… 
Valérie's brother, Thibaut, is a rising soccer star, who currently plays for Atletico Madrid and will soon compete in the semis of the UEFA Champions League. "Our parents were both Volleyball players, so all of their children played Volleyball too, including my little brother Thibault," she says with a smile, since Thibaut now stands at 199 cm. "He played for a Volleyball team for one season when he was 11. However, he started playing soccer already by the time he was 8 and four years later he decided to focus only on it. However, he still loves our sport and during summertime he plays Beach Volleyball with our family. He is very skilled and you wouldn't say that he is not a Volleyball player too."
Valérie and Thibaut are very close and support each other as much as possible. ""We keep following our respective careers and if I have a chance to follow one of his matches in Madrid, I try to be there. That was much easier this year because I was not playing during the club season and so I have been there many times. I was there when they beat FC Barcelona in the 1/4 finals of the Champions League and will be there once more when they play their semi-final game with Chelsea. These Champions League matches have got an extraordinary appeal. On the other hand, last December when he was in Belgium, Thibaut came to see me when I played in Kieldrecht."
A Volleyball family and plans for the future… 
As already mentioned, Valérie's parents were both Volleyball players but she made the decision to follow in their footsteps entirely by herself. "They both were good players but I was not obliged to choose Volleyball. They only wanted us to do some sport, whatever it was. We used our summer holidays to join some omni-sport camps, I learned to play tennis and until I was 14 I also attended dance and ballet classes. I was even offered the chance to join very renowned ballet schools in Antwerp and Maastricht, but I eventually chose to opt for Volleyball because I was more talented for this sport. Anyway, there was no obligation, it was only our choice. My youngest brother Gaëtan played basketball until the age of 12 and then switched to Volleyball, but this was his decision."
Courtois does not want to disclose her plans for the next season yet: "Probably I will play for a Belgian team but actually I do hope I will receive some offers from abroad. If I can show that I continue to progress and if I perform well at the World Champs and at the World Grand Prix, I am confident that my agent will find a good option for me. I would love to play in Poland, a country where people are crazy for Volleyball. That would be cool." 
Source : CEV.lu